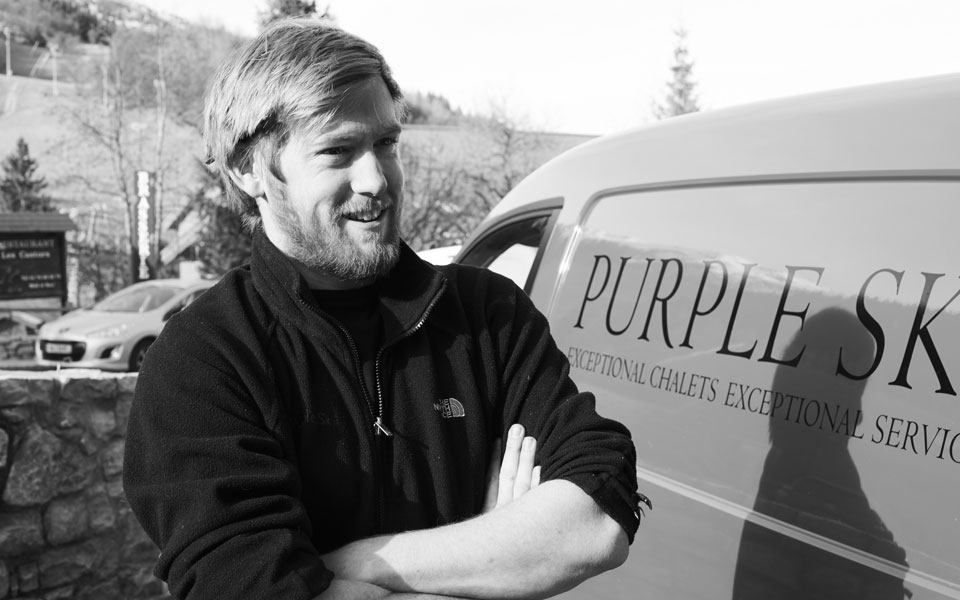 General Assistant (maintenance)
Where
Méribel, Courchevel and Val d'Isère, France.
When
From mid November 2020 to early May 2021
Salary
Highly competitive salary package with accommodation, travel, food and drinks included. Potential additional performance-based bonus.
Age range
Over 21 years (for vehicle insurance reasons)
Overview

There are 2 General Assistant roles, both are hybrid positions as the job holders are covering for the days off of chefs, chalet managers, chalet assistants and chalet assistant/drivers.
During a normal week, both roles include driving (including occasional airport transfers) and chalet work (housekeeping and waitressing).
This role also involves maintenance, i.e., ensuring that all repairs and renewals are carried out promptly and to a high standard in all Purple Ski properties.
Previous Experience
Full driving licence and at least 3 years post qualification driving experience is essential.
At least 2 years/seasons professional passenger or goods driving exerience (provable) or a Driver Certificate of Professional Competence is essential.
Previous experience of driving large vehicles, on snow and/or overseas is highly desirable.
Prior hands-on experience in the hotel and catering industry in waitering/waitressing and/ or cleaning/chamber-maiding roles is highly desirable.
Must have demonstrable experience and good practical "DIY" skills in painting and decorating, carpentry/joinery, plumbing, basic mechanical and electrical fault finding / problem diagnosis.
Must be good at working both alone and as part of a team. You must have extremely high work standards, be self-starting, flexible, customer-focused, self motivated, take pride in your work at all times and be conscientious.
Good level of spoken French is desirable.
Main Duties
Service : General and Housekeeping
Creates a warm, friendly and welcoming atmosphere for all guests, including all children
Is available to answer any questions, or resolve any problems that the guests may have, always aiming to do whatever they reasonably can to ensure that guests have the best possible skiing holiday, whether on or off the slopes. To enable this, is knowledgeable about the resort, its facilities, the Purple Ski website and the Staff Manual.
Refers any complaints to Karen
Helps ensure that all guests are provided with welcome literature and emergency contact cards.
Helps guests to use the personal laundry facilities as required
On changeover day, works closely with all others on the assigned chalet team to do whatever is needed to ensure a smooth and pleasant transition for the guests and efficient changeover for staff. Changes all linen and towels, thoroughly cleans chalet.
On approximately 2 mornings / evenings a week, works in the assigned chalet to cover or chalet assistants (mainly housekeeping and waitering duties) to ensure that the highest standards of service and cleanliness are maintained (see job description for more details.)
Service : Driving
On approximately 4 mornings or evenings, works in assigned chalets, covering for the chalet assistant/driver. Main duties on these occasions are:


driving guests within the Meribel Valley as required, helping them load and unload ski equipment as necessary
helping with washing and cleaning up before and during evening service
carrying out bedroom turn-down service during evening dinner service
looking after the chalet spa facilities (hot tub and sauna/hammam)
lighting and tending the fire



Helps with the cleaning and refueling of company vehicles as required / rotaed.
Occasionally (on changeover day or mid-week on an exceptional basis as assigned by Karen), performs airport transfers, meeting guests at the airport (usually Geneva, Lyon or Chambery) and/or train stations (generally Moutiers only) and transferring them safely to their chalet; also returns departing guests to the airport/train station as required.
Maintenance
Before the start of the season, performs maintenance and decorating as required / assigned to ensure that all Purple SKi properties (chalets and staff apartments) are in the best condition possible.
Throughout the season, monitors and responds to call-outs regarding damage, breakages and breakdowns for all Purple Ski chalets and property (except vehicles) and where possible carries out or organises repairs promptly
Maintains a log of all repairs and renewals, provides reports on status regularly and accounts for their cost.
Other duties
Supports all activities associated with the opening and closing of all chalets and staff apartments before the start of, and at the end of, the season.
Supports chalets as required when additional housekeeping, waitressing and/or driving support is needed.
Supports the formal review and performance appraisal of staff throughout the season and at the end of the season.
Application
In the first instance please complete the online application form by clicking here.