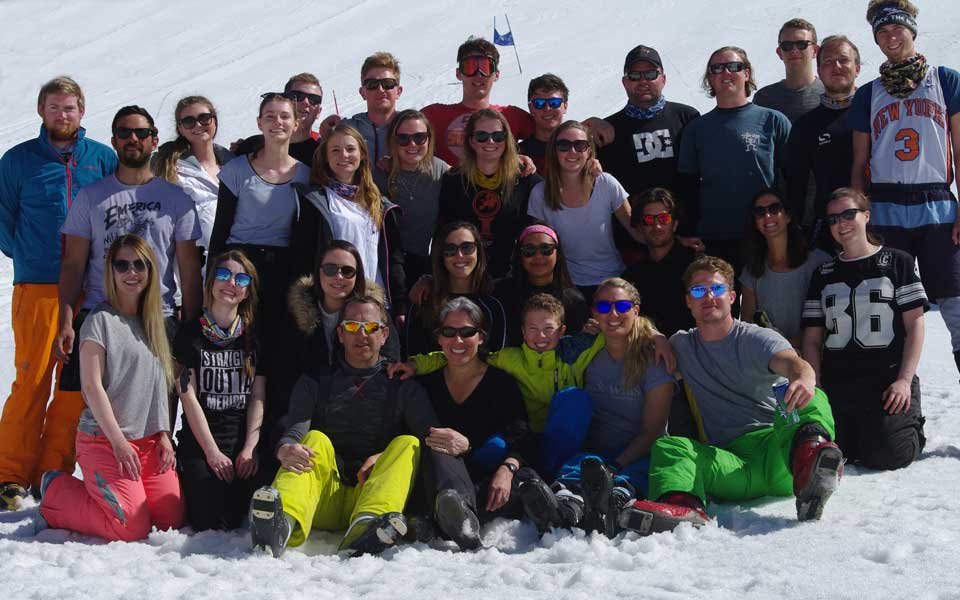 Staff Testimonials
Here are some things that previous staff have said about working for us:
Joe G - Chef, 2017/18
Where to start?! A truly magical experience. I had the pleasure of working amongst a group of fantastic people. Karen and Michael are up there with the best employers around and leave no stone unturned when it comes to customer service; the attention to detail is second to none. I can't wait for a chance to return to meribel and purple ski! One of the best decisions you will make! Thank you Karen and Michael and everyone that makes purple ski the best company to work for!
Dane W - Chef, 2015/16 and 2016/17
Without a doubt the greatest job I've ever had. Can not wait to return!
Paul and Lauren - Chef/Chalet Manager 2014/15 and 2015/16
We travelled all the way from Australia to work in the French Alps and couldn't ask for better employers then Purple Ski. Karen, Michael and their team are first class, providing incredible service and food to their customers and treating their staff with no less love and attention. Lauren and I are looking forward to going back and working another season in Meribel with the purple ski team and would highly recommend any other passionate people to come join the team.
Tommy M - Chef, 2012/13, 2013/14, 2014/15 and 2016/17
After working in Michelin starred restaurant for 6 years as Sous Chef I felt it was time to move on and seek a fresh challenge and new experiences. Karen and Michael offered me the privilege of Chef in Chalet Foinsbois. I am very grateful for this amazing opportunity and the lasting memories. As well as been given freedom to cook what ever I wanted (after a taste test from Karen) there was also plenty of advice/tips from other chefs on what works and what doesn't in a ski resort. We have a generous budget to work with and I was extremely impressed with the quality of ingredients available, particularly the local butcher who will endeavour to help you with specific requests.
There was plenty time for snowboarding and partying, both of which improved throughout the season! Purple Ski is all about exceeding guests expectations, this can also be said for the staff. I never thought I would be able to ride so much powder, meet so many friendly and talented professionals. Combine this with free staff chalet accommodation, BA flights (most other companies throw you on a bus from the UK!) and as much beer/wine as you can drink you are sure to have the time of your life. I cannot wait to return to Chalet Foinsbois in December!
Rod W - Chef, 2013/14
Working for purple ski always felt like I was part of a big family. Professionalism is paramount, encouraged and rewarded, while a fun and friendly working environment is always found. In short, the best ski chalet company I have worked for.
Adam B - Chef, 2011/12 and 2012/13
I've worked two seasons in Meribel for Karen and Michael, as the chef at chalet Zybeline. Purple Ski is an amazing company which really takes care of its employees and makes you feel like part of a family.
The recruitment process is key and they do a fantastic job at picking like minded souls who are professional and hard working.
Everyone should do a ski season, and there is no better place than the 3 Valleys and no better company than Purple Ski. A great experience for anyone, which could be life changing.
Dano S - Chef, 2003/04, 2005/06, 2007/08, 2009/10 and 2010/11
Building forever lasting friendships, If I could do more seasons I would, I would recommend this job to any young chef, Not everyday you come across amazing people like Karen and Michael
Alice - Chalet Manager, 2016/17 and 2017/18, and Pete - Lead Driver/Maintenance Manager, 2017/18, and Chalet Assistant/Driver, 2016/17
Having worked previous seasons before with other companies and after being back in London for six years we decided to take a career break and do "one last" season. That didn't quite work out; we are now coming back for our third season with Purple Ski this winter.
Quite simply it's one of the best companies you can work for (not just ski operators), hard work and a passion to deliver great customer service is required but the rewards are many. From the training and support you receive from Karen throughout the season to the many benefits you get along the way; such as great accommodation, meeting like minded people, a decent amount of ski time and of course all the delicious food you get to eat.
We can't wait to get back out there.
Bobby R - Chalet Manager, 2016/17 and Chalet Assistant/Driver, 2017/18
Working for Purple Ski has been an absolutely fantastic experience from start to finish! The attention to detail that Karen and Michael show throughout their operation translates an enormous amount of care for their business, guests and staff. From mountain refuge fondue to moonlit sledging, throughout the season they put on loads of great social events for all the staff to get together and enjoy. We had awesome staff accommodation, got to enjoy incredible food and drink, had loads of free time to board/ski in an amazing resort. Would highly recommend purple ski to anyone if they want the best ski holiday or season work of their life.
Siggy S - Chalet Assistant and Chalet Manager, 2014/15, 2015/16 and 2016/17
Working for Purple ski for the last three winters has completely changed the way I will look at life. I had lost most of my confidence working as a nanny and this opportunity has helped me so much and because of this has opened many doors for me. I may work from season to season but that is what I love about it. I have so many happy memories in Meribel and being able to ski nearly everyday between work is just something I had never thought possible. Karen and Michael I truly feel have created one of the most amazing companies to work for. The respect that they have for you is very easily returned, and you are very much looked after. I have met some of the most amazing people and it is something I will always happily return to in future years. I do not think I could have asked for anything more for a season and I will be forever grateful for being given that opportunity. Thank you.
Hannah O - Chalet Assistant, 2016/17 and 2017/18
I have just returned from my second season with Purple Ski and I can definitely say that it was even better than the first! I found my role as a Chalet Assistant in Lapin Blanc so fun and rewarding, and I had an unbelievably wonderful time skiing.
I loved working in a company where I felt like my hard work was more than rewarded with how well Karen looks after the whole team. It's such a friendly atmosphere and I've definitely made several close friends for life.
There's plenty of time to ski between work and Meribel is a beautiful place to live...I already miss it a lot! A unique experience that I would recommend to anyone.
~~~
I worked as the Chalet Assistant in Lapin Blanc alongside my boyfriend, Ross, who was the chef. Although I initially felt quite nervous (I hadn't worked in hospitality for several years and felt a bit rusty!) I very quickly felt at home.
The training process is unlike anything I've experienced before - I really felt that Karen and Michael cared about every person's place in their company. I felt trusted yet supported throughout and would recommend the experience to anyone.
Above all, I met some wonderful people and got plenty of skiing in. The worst part was leaving - it really did feel like I was leaving home behind!
Suzie H - Chalet Assistant, 2016/17 and 2017/18
I'm so lucky to have found a company like Purple Ski. Karen and Michael are so supportive and make you feel so comfortable and valued within the company. I couldn't of asked for a better first season and I can't wait to return.
Sasha R - Chalet Assistant, 2016/17
I just wanted to say a big thank you for the past 5 months, they have been amazing. Such a great company to work for and I have made so many memories in Meribel I know I'll be back for more one day. I miss it already, sunny mountains trump the rain here any day!
Alice B - Chalet Manager, 2015/16 (also 2016/17 and 2017/18)
I've just finished my first ever ski season and I couldn't have wished for a better experience than the one I've had with Purple Ski. Karen and Michael are extremely trusting of the team but if a member of staff ever has a question or needs some help, they are always available and very supportive. A season with Purple Ski involves hard work and requires a genuine passion for the job but we are rewarded with plenty of skiing time, cosy accommodation, amazing food and drinks, lots of fun staff activities and being welcomed into the lovely Purple Ski family! I would happily work for Karen and Michael again in the future!
Jodie GB - Chalet Assistant, 2015/16 and Chalet Manager 2017/18
Working for purple ski completely blew all of my expectations of working a ski season out of the window. I have had some of the best times of my life during the 5 months I was in Meribel and made some life long friends. Before I started my season I had never actually skied on a mountain before and what was such a relief was I was not the only one! Everyone was so accomodating and I was made to feel so welcome amongst those who had been skiing their whole life. From the moment we touched down in geneva it felt like home and from day one we felt like a family. I will always look back with such fond memories and I am so grateful for the opportunity to have been able to work for such an outstanding company. A massive thank you to Karen and Michael.
Katie R - Chalet Manager, 2014/15
Deciding to do my first ski season with Purple Ski was the best decision I have EVER made! Karen and Michael are truly amazing people and a joy to work for. My job as chalet manger was a great way to use my past experience in hospitality and meet guests from all over the world. I loved my job! I am so grateful for the opportunity to work for Purple Ski as it has not only allowed me to work in beautiful chalets but also given me the chance to meet the most amazing people and fall even more in love with Meribel and skiing (and also now snowboarding). I cannot thank Karen and Michael enough for this wonderful opportunity. I miss the beautiful mountains! If you get the chance to do the season, go for it!
Amy C - Chalet Manager, 2013/14 and 2014/15
I wanted to say such a huge thank you again for quite possibly the best winter and experience I've ever had. All credit to you, you run a fantastic company and look after your staff so well. Thank you so much for everything.
Rachael H - Chalet Manager, 2012/13, 2013/14 and 2014/15
I was delighted to be apart of the purple ski team!!it was my one of my life ambitions to do a ski Season and it was everything I dreamt of, Karen and Michael are amazing people who look after the team and give the best training to maintain a high level of guest satisfaction , not only this but they manage to hire some of the most amazing unique people i have ever had the pleasure of working and living with.
I have gained so much experience working as a chalet manager, my confidence has grown, I've lived in the Alps (breathtaking!) , met lots of amazing new friends , became a good boarder (my goal in life!) , had many fun times in extremely deep powder , boarded the three valleys on blue bird days , danced my socks off in the Ronnie , met guests and staff from all over the globe , enjoyed tasty food made by the talented chefs , had many laughs in the saulire bubble , Beck's homemade cookies and that is just half of it.....this is why I'm going back for more!!
~~~
So I've completed my second season in the truly stunning French alps, located in Meribel.I can't explain how much fun I had this season , working for purple ski really helped as I knew the ropes and once again I met some of the most amazing people!! I feel that after my second season I grew more confidence with not only my boarding skills but my interaction with the guests, meeting people from all the over the globe is definitely a bonus.Purple ski is my second family and anyone thinking about doing a season should consider purple ski, a chance to meet new friends ,work for such down to earth people, ski/snowboard some of the most breathtaking mountains, live in good staff accommodation, work in a strong team and yes....have fun!!! Hmmmm should I do a third season?!
Charlotte DC - Chalet Manager, 2013/14
Whilst there's no denying that chalet work can sometimes be hard and demanding, I think working for Purple Ski offers a uniquely rewarding experience in comparison with other chalet companies. What is really important is that Karen and Michael really believe that the happiness and well being of their staff is key to the happiness of the customers - a work ethic I strongly believed in too as a Chalet Manager. As a result being part of the Purple Ski team becomes more like being part of a big snowy family and I would highly recommend the company to anyone who is considering applying.
Emily B - Chalet Manager, 2012/13
I wanted to send a big THANK YOU to you and Michael for all your support throughout the season. Purple Ski was an absolute joy to work for and made it possible for me to enjoy 101 absolutely fabulous days skiing, not to mention new friends and memories to last a lifetime!
Izzy C - Chalet Manager, 2011/12
Working with Purple Ski really was the one of the best experiences of my life so far! I made so many new friends and have some great memories both inside the chalet and out on the slopes! The support from Karen and Michael was fantastic and I really hope that someday I can go back to Meribel and do another season with them.
Livvy S - Chalet Assistant/Chalet Manager, 2010/11 and 2011/12
I absolutely loved working for purple ski, it's like being part of one big family. Karen and Michael are fantastic bosses who gave me the oppotunity to work in amazing chalets with brilliant people. I have made friends for life and had so many incredible days skiing in the three valleys.
Charlotte and Jason - Olympie 3 Chalet Managers, 2017/18
My boyfriend and I worked together for Purple Ski last winter and we honestly couldn't recommend it highly enough. The training, care and attention Karen and Michael give as employers is second to none, you really feel valued and appreciated as an employee. We got to work amongst some amazing people and skied some of the best slopes we've ever experienced in the 3 Valleys.
We are both extremely grateful for the opportunity to work for Purple Ski and can take away memories that will last a lifetime.
Karliah and Ed - Olympie 3 Chalet Managers, 2016/17
Having never worked in Hospitality before, we could not have asked for a better company to work for. The training and support given throughout the season was brilliant. The entire team was easy to get along with and happy to help with anything. Purple Ski know their position in the market and use it to their advantage. We had an amazing time!
Ameer and Andrea - Olympie 3 Chalet Managers, 2015/16
The season with Purple Ski is one we'll never forget. The Alps are an incredible location in which to live and work, the team is fun, friendly and supportive and the skiing is world class. We developed so many new skills that we can now rely on. It is definitely hard work but well worth it.
Andrew B - Olympie 3 Chalet Manager, 2014/15
Well I must say that what makes a job amazing is the people you work with and for, and I loved my job, that says a lot. Purple ski exceeds in an above and beyond way in every aspect, ranging from the attention to detail to the motivation they inspire to their staff, knowing that enthused staff equals high motivation.
Karen and Michael form a great team as they are very dedicated and passionate with their work and they always do the best for their company, they are highly organised, down to earth and are always open to new ideas.
The care they put in to it to exceed guests expectations, the effort and the determination are the key to their success and I feel honored to have been part of such a great company. I would like to thank Karen and Michael for the incredible experience they have given me and I can say that I would be delighted to work for them again, any time.
Martha T - Olympie 3 Chalet Manager, 2014/15
If your looking to do a winter season in the French Alps, working for Purple Ski is must do. Working for Karen and Michael was an enjoyable fun filled experience, Karen respects and values each and every member of her staff and thus commands their respect in return. As a company, Purple ski is just as diligent looking after their staff as they are focused on achieving excellence in the service they provide, this modus operandi is actually rarer to find in practice than you might think. If your responsible, outgoing and enthusiastic with a work hard/play hard attitude then Purple Ski might just be the right place for you.
Ali B - Olympie 3 Chalet Manager, 2009/10, 2010/11 and 2011/12
We had a fabulous time when we worked for Purple Ski. It was great to be part of such a welcoming and friendly team and the training provided the perfect opportunity to get to know everyone. The team is well managed so you get back up when you need it and you know exactly what is required of you.
Hannah B - Customer Services Manager, 2014/15, 2015/16, 2016,17 and 2017/18
I joined the Purple Ski family in 2014 with the intention of fitting in a gap year before moving to London and starting my career in the city… four years later, it is safe to say I will never know what my life in London might have been like, but I have had the best four winters of my life and am feeling a bit lost without the prospect of returning to Méribel in October.
If you would like to work for a company that consistently delights its customers; that rewards hard work with a great package, ample ski time, lovely accommodation and awesome staff events; that supports you in every way imaginable and helps you progress; that becomes more like your family than a group of colleagues – then Purple Ski is the company for you.
Karen and Michael are kind, generous, fun to work with, run a slick operation and will be a tough act to follow for any future employers I may have. I have been truly spoilt with my experience in the Alps and will miss it very much.
(I even met my partner Toby through Purple Ski and we are getting married next month – so you never know, your time working for Purple Ski may change your life forever!)
Ben L - Admin Assistant/Driver, 2016/17 and 2017/18
Some of the most rewarding months of my life so far were spent working at Purple ski.
The role of Admin/Driver itself was perfect, allowing me to be a part of almost every aspect of the company. You'll be working in chalets now and then, ALWAYS with fantastic teams of great and talented individuals. Doing transfers gives you the opportunity to be both the first and last impression guests will have of Purple ski, something that I personally really enjoyed!
One huge bonus that can't go unmentioned is getting to work closely the one and only KBS. As employers Purple ski don't just brag that they care about their staff, they absolutely implement a system whereby happy staff facilitate guests having a fantastic holiday. The only place you will see just how much Karen cares about her staff is in the office (where you'll be in between skiing). It's lovely. I can guarantee that if you do a season at Purple ski you will, at some point, overhear other seasonairs discussing various aspects of their contracts and employers. It is at this point you will come to completely appreciate how well you are looked after.
The one issue with doing a season with Purple ski is that it will absolutely make you want to come back and do another! Then again...... that's not such a bad thing.
Ben B-E - Admin Assistant/Driver, 2014/15
An absolute genuine delight to have been part of the original Purple Ski team. Loved it, and it was a pleasure to work with and get to know yourself, Michael, Max and the teams over the years.
Ben M - Office Manager 2007/08, 2008/09, 2009/10, 2010/11, 2011/12, 2012/13
Joining Purple Ski in 2008 was just supposed to be for a few months of work and fun before looking for a 'proper job'.......well 6 years later, I am now looking back on 6 of the best years of my life so far and it will be very strange feeling when the 2013/2014 season starts and I am no longer a part of it.
Working closely with Karen and Michael has enabled me to witness how much work they put in to make Purple Ski the company it is. They strive to meet (and consistently do) all the needs of the guests staying in the fantastic luxury chalets and refreshingly this is exactly the same ethos for how they treat the people who work for them. They recognise that the success of Purple Ski is due to the high quality of the staff, so not only are you rewarded with a great package, far better than most chalet companies offer but you also get to work alongside a great team that has been hand picked by Karen with both getting the job done to a high standard and how you all fit together as a team in mind. The number of returning staff each year is proof of how successfully this is done.
Add to this, amazing skiing, making friends for life and more memorable experiences than possible to remember I am going to miss it very much.
Claire L - Personal Assistant, 2008/9, 2009/10 and 2010/11
I was part of the Purple family for 3 winter seasons. Being part of the hard working, Purple Ski team not only introduced me to the world of snow and similar minded people (thus lots of fun!) but also opened the door to lots of new and unforgettable experiences like working in some stunning chalets, learning to drive in the snow, working with some amazing people, whom I learned a lot from and who are still part of my everyday life.
As a bonus, working in the three valleys gives you the freedom to ski in the largest ski area in Europe with the most fantastic views! I felt very proud whilst working for Purple Ski and still really consider myself 'Purple'! Karen and Michael are very approachable and care for their employees as if you were their family. It was an easy decision to return for following seasons but a very difficult decision to leave.
Mark D - Supplies & Maintenance Manager, 2005/6, 2006/7, 2008/9, 2009/10, 2010/11, 2011/12 and 2012/13
Purple Ski stands for the best - of everything. I'd worked for two other ski companies before Purple Ski, and neither compared. I've had the best all round package, had a perfectly suited job, employers I now consider friends, and the best memories of every season. The thought of not working for Purple Ski in the future is a hard one when they've been such a large part of my working life, even helping and supporting me in my own business endeavours.
Karen and Michael don't just hire the best staff, they simultaneously manage to hire the right members of a strong team, and then provide the best training in the industry, to make sure that Purple Ski guests get the best service. Add the best company and the best staff to the best ski area in the world, and you get an unforgettable winter every time!
Sara C - Chalet Assistant/Masseuse, 2016/17
Purple ski are a lovely company to work for. Karen and Michael are very generous and the whole team are welcoming, having so many people who are returners means there is always someone to keep you right when you�re starting out and getting to grips with how things work. Meribel is an awesome place to live and is right in the middle of the three valleys which means you can cover a lot of ground skiing in between work. It�s nice to have everything organised for you e.g. travel, accommodation and makes the move to France much smoother. The job is varied and interesting, you get to focus your knowledge in one area and improve your skill. Hard work but rewarding with ski time and fun. I would suggest it to anyone who is looking for a more supported job/ lifestyle - great if it is your first ski season!
Charlotte DD - Chalet Assistant/Masseuse, 2015/16
Choosing to join purple ski to do my ski season this past winter was the best decision I ever made. I had such a fun few months, made lots of amazing friends, had the opportunity to do lots of massage/sports therapy work, great skiing and was really well looked after by Karen, Michael and all the other staff! For anyone thinking about doing a season I highly recommend working for purple, you will have a memorable few months!
Jess B - Chalet Assistant/Masseuse, 2014/15
Just to say a big thanks for making my ski season possible. It's been an absolute pleasure working for purple ski, and working with everyone in it. Although it has been tough at times and I probably underestimated how hard the work would be, I still have really enjoyed myself. I think I am better prepared for the next season, hope to see you then!
Jo M - Chalet Assistant/Masseuse, 2012/13 and 2013/14
Working for Purple Ski has been an incredibly rewarding experience - surrounded by such a lovely, supportive and fun team of people, working in gorgeous luxury chalets and spending most days out on the mountain. I enjoyed my first season so much working with Karen and Michael that I came for a second year, and had an even better time!
Purple Ski has extremely high standards for their clients, and this is also reflected in how well the staff are treated. Throughout the whole of my season I felt very well supported and looked after by Karen and Michael, and a valued member of the team.
Both seasons I enjoyed working together with the other masseuse, being given the freedom to organise our massage bookings ourselves and offering support to each other.
Most importantly, though, Purple Ski gave me the opportunity to get out snowboarding as much I as I could physically manage, and make some of the best friends I've got.
Cameron - Chalet Assistant/Driver, 2017/18
After completing my first ski season with Purple ski, there is truly no other place I'd rather do a season. The company being one of the best employers I have been lucky enough to work for and the resort is just simply world class!
As a chalet assistant/driver for the beautiful chalet Zybeline, I found my role exciting, challenging and very rewarding. The attention to detail is beyond the highest of standards that you could think of. Guests love it and the staff love to provide it. The skiing conditions for the season was just incredible, the best snow in decades quoted by some of the veterans of the ski season in Meribel. As an employee , you had plenty of time off to ski or relax in the town.
Karen and Michael have nailed it when it comes to knowing how to look after staff. From start to finish the appreciation and relationship with each member of the team is something very special. The work place is an extremely friendly and hard working bunch of individuals. I already miss it! And would do it all again in a heart beat! An experience that I would recommend to anyone.
Eliza - Chalet Assistant/Driver, 2017/18
Having completed a season for Karen and Michael at Purple Ski, I would recommend it to anyone willing to put in a hard shift at work! With their careful attention to detail, it really does make you proud to present their chalets and be the guests face to the business. They are also fantastic people to work for, with much nicer than average accommodation provided as well as all food and even wine and beer! Karen and Michael also put on lots of social events throughout the season; from night sledding to riding in a piste basher, they know how to put on entertainment!
That said, there is still ample time to ski or snowboard. Having not done much skiing prior to my season, it was great to get the opportunity to learn, and actually become quite competent!
I have met some amazing people and Méribel is such a fab place - I'd love to return one day.
Not just your bog standard ski company, thank you Karen and Michael.
Tom P - Chalet Assistant/Driver, 2015/16, 2016/17 and 2017/18
Purple ski provided me with a great lifestyle, lots of laughs and lots of friends. I have so much respect for Karen and Michael and couldn't think of a better company to spend my winter with.
Purple Ski is by far the best company I have ever worked for.
Paddy M - Chalet Assistant/Driver, 2016/17
Professionalism, camaraderie, excitement, challenges, responsibility and above all....fun!. These are just a few descriptions I can think of when I worked with Purple Ski in 2017. I had the privilege of working with some amazing people and looking after some awesome guests. And I am just so glad I got the opportunity to do so.
Dan L - Chalet Assistant/Driver, 2014/15
You'll never spend a better 6 months... When you come to write your testimonial, you'll realise the memories you've made, the people who were there to make it happen, and how well Michael and Karen treat us. I'll be back... We can't have Max winning the staff slalom can we!
Sam P - Chalet Assistant/Driver, 2013/14
I would say it is a must do! It's hard work but the repay is well worth it. It's also really nice to work for Purple Ski as they are the best, it's kind of known around the resort.
Laura R - Chalet Assistant/Driver, 2013/14
I worked for Purple Ski as a Driver/Chalet Assistant and absolutely loved it! It's definitely one of the best decisions i have made. I have made ever lasting memories and some life long friendships from this experience. Purple Ski are truly a fantastic company to work for, we were all so well looked after and appreciated. I got so much out of doing my season and really didn't want it to end. I will have to try and fit in another one at some point for sure. Thank you Purple Ski!
Dean D - Chalet Assistant/Driver, 2012/13, 2013/14 and 2016/17
I had the opportunity to work for Purple Ski as the driver for chalet Foinsbois and would highly recommend this company to anyone considering working in the Alps over winter. Karen and Michael (the owners) have a refreshing business philosophy where happy staff means happy clients and although they expect excellence, they enable their staff to deliver this by providing continual support and training. They also offer perks many competitors don't such as flights with BA (no 24 hour bus journey), bonuses, free beer and wine in staff accommodation, great food and plenty of ski time to name only a few. This explains the high "returner" rate this company enjoys and personally, I felt as though during my season I was able to experience the best the 3 Valleys had to offer and were I to return, I really couldn't see myself working for anyone else.
Jamie C - Chalet Assistant/Driver, 2011/12
I loved working for Purple Ski and thought that it was incredible that over 30 strangers could be brought together to work for a common goal in only two weeks training. Friendships for life, free beer, wine and some epic skiing.