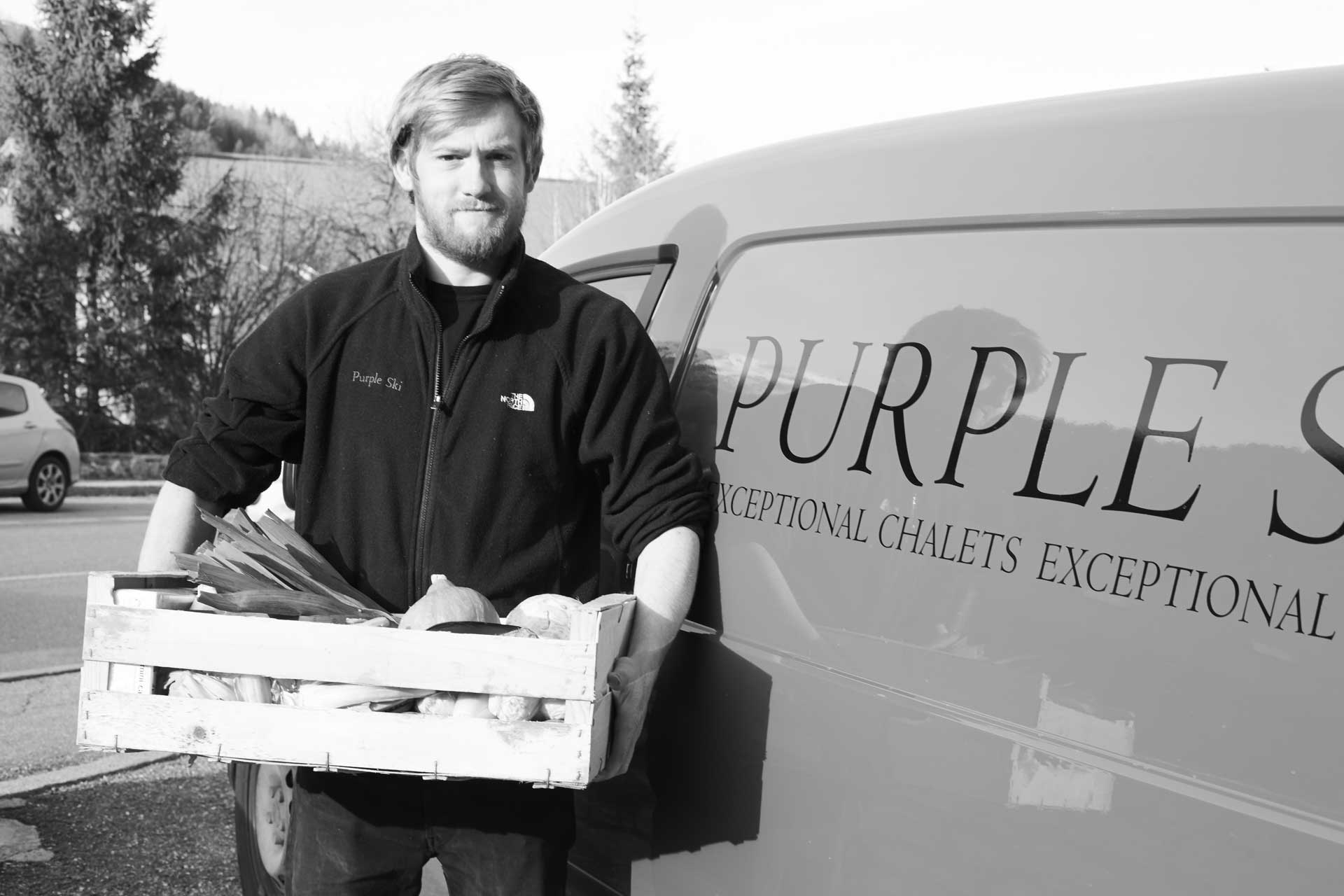 Supplies Manager
Where
Méribel, Courchevel and Val d'Isère, France.
When
From mid October 2021 to early May 2022
Salary
Highly competitive salary package with accommodation, food and drinks included. Potential additional performance-based bonus.
Age range
Over 21 years (required for vehicle insurance reasons)
Overview

The primary purpose of the role is to ensure that all chalets are supplied with all necessary provisions in accordance with the specific requests of chalet staff and on a timely basis, for managing and optimising stocks overall and ensuring that costs are kept within budgeted limits.
Also supports the General Assistant - Maintenance in ensuring that all repairs and renewals are carried out promptly and to a high standard in all Purple Ski properties.
May also occasionally be required to support with the smooth running of operations in general (e.g., by the performance of airport transfers).
Note : this is NOT a supervisory position, i.e., no staff report in to the job holder, however as the Supplies Manager you must ensure that each of the chalet chefs meet their budgets she/he does have coordinating responsibilities in that regard.
Previous Experience and skills
Computer literacy, in particular skills in Microsoft Excel are essential
A high degree of numeracy, accuracy, thoroughness and competence at record keeping and document management are essential
Driving licence and 3 years post qualification experience is essential
A recent Level 3 Food Hygiene and Safety certificate is essential
Good spoken French and basic written French language skills are essential
Good practical "DIY" skills are essential
Previous experience in food handling and/or preparation are highly desirable
Previous experience of driving large vehicles, on snow and/or overseas is highly desirable.
Job holder must be highly organised, efficient, resourceful and able to work alone as well as part of a team.
Job holder must possess good judgement, be determined / tenacious in meeting her/his objectives and have excellent communication skills
Main Duties
Purchasing/Delivering
Receives, collates and combines (challenging/making suggestions/decisions to optimise as required) orders from each chalet. Includes:



Fresh fruit and vegetables
Meat and fish
Wine
Bread
Dry goods
Logs
Gas bottles



Submits combined orders to approved suppliers.
Receives deliveries from suppliers, verifies quantity and condition and distributes to chalets supplies of food, drinks and all other items on a timely basis. Resolves any issues, including arranging for returns and repeat deliveries.
Goes shopping to buy bulk provisions (weekly) and emergency provisions as required
Helps with the movement/distribution, set up and stock control of beds and children's/baby equipment
In conjunction with the Operations Director, identifies and negotiates with suppliers to obtain best possible quality, cost and convenience/ timeliness of deliveries. Gets approval of Operations Director for any new suppliers
Stock and Cost Control
Monitors supplies usage and costs and ensures that purchases are within general (total, including by-chalet) and specific (by type) budgets. Follows up with chefs/chalet staff and reports to Operations Director as necessary regarding any under/over usage
Ensures that stock takes are performed on a periodic basis and that stocks are maintained at the minimum level possible throughout the season. Is able to explain any unusual usage patterns to Operations Director
Throughout the season, but in particular at the end of the season, actively manages stocks, orders and usage to ensure minimum wastage and residual stock.
Maintenance
Prior to the start of, and immediately following the winter season helps Maintenance Manager carry out general maintenance and repairs for all Purple Ski chalets and staff apartments
Throughout the season, supports the Maintenance Manager in monitoring damage, breakages and breakdowns for all Purple Ski chalets and property (except vehicles) and where possible to carry out or organises repairs promptly (especially on the day off of the Maintenance Manager)
Helps to maintain a log of all repairs and renewals, also to provide reports on status regularly and accounts for their cost
Other duties
On changeover days and on an exceptional basis, may be required to provide transfers for guests in-resort or, on occasion, to/from the airport or train station
Maintains Purple Ski health and safety (including food hygiene) standards at all times
Responsible for the management and cleanliness of general (shared) storage areas and also oversees all chalet garages / store rooms.
Participates in management meetings as required to review overall operational and business performance. As part of this, reviews and reports on issues relating to the quality of supplies and/or accuracy of supplier order fulfillment, also any major maintenance issues
Application
In the first instance please complete the online application form by clicking here.