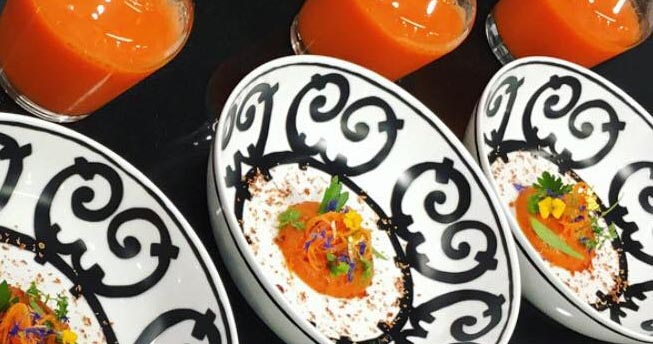 Chef Tommy Talks
The Pacojet - how it helps us deliver delicious
We are incredibly lucky to be welcoming back Tommy, our Chalet Foinsbois chef, for his fifth season with Purple Ski.
Our superlative food is part of what makes a Purple Ski holiday so special - and so we are always looking to ensure our chefs have the best ingredients and equipment at their disposal. This year Tommy will be using a Pacojet, alongside the other state-of-the-art equipment in his kitchen, and he has told us a little bit about the culinary treats he will create with it this season...
"Returning for my fifth season with Purple Ski, I am super excited to be back cooking for our wonderful clients in the gorgeous Chalet Foinsbois in Méribel Village. Making the transition from a Michelin star restaurant in the UK to a luxury chalet company seven years ago has proved to be the best decision of my career, with thanks largely to the professionalism of Purple Ski.
This extends to the top quality fresh produce we have available to us along with the exciting equipment and 'chefs toys'. In Chalet Foinsbois, I'm blessed to already have a water bath, induction hob, thermomix, dehydrator and new for this season I'm very lucky to be given a Pacojet. All of these special pieces of equipment elevate my cooking to the high standard that our clients expect and allow me to be creative, pushing boundaries of what is achievable as a private chef in the mountains.
The Pacojet creates sorbets and ice creams with an ultra smooth texture using a technique that reduces the processing duration of the recipe, thus trapping maximum flavour along with vitamins and nutrients. It can also be used for making interesting additions to dishes such as edible 'snow' using a recipe of white chocolate, cocoa butter and water.
The Pacojet is also useful for making vegan desserts and playing around with tastes, texture and temperature by creating exciting savoury ice creams such as fennel and camomile (a favourite combination of mine), also pumpkin sorbet or a foie gras mousse. By using the correct methods for a Pacojet, we can incorporate vibrant colours and textures into our dishes, consistently delivering innovative cuisine of Michelin star standard for our guests in the comfort of Méribel's finest chalets."