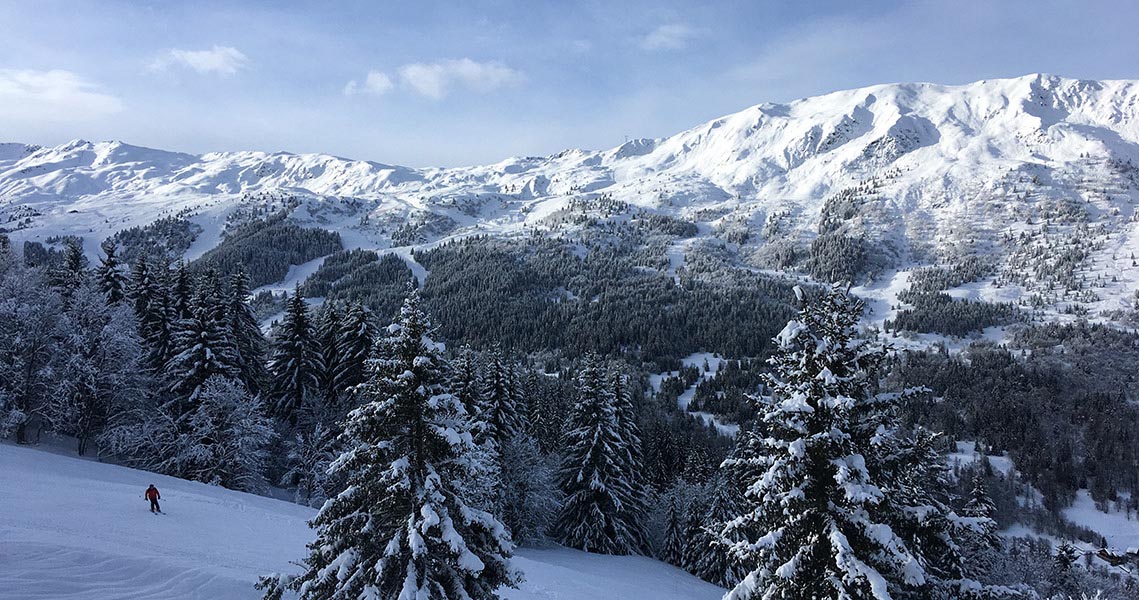 Best of the Best
Pistes in the Méribel valley
There are many reasons to holiday in Méribel, not least of all its unparalleled location: at the heart of the world's largest and finest ski area, surrounded by over 600km of ski slopes, it offers world class skiing for all abilities.
But with so much choice, how do you even know where to start? Well, below are our top picks for the best green, blue, red and black pistes in the valley. If you only have time for a handful of runs on your holiday - in between the mountain restaurants, après-ski, and beckoning hot tub and massage service, that is - make sure these are on your list!
GREEN RUNS
La Truite
An iconic 3 Valleys piste, and referred to variously by its French name or English translation, the 'Trout' is beloved by many for its gentle gradient and picturesque route through the forest alongside the Doron river. The most convenient route from Mottaret to central Méribel, it's likely you'll end up on this piste at least once during your stay.
Blanchot
If you're just starting out on skis but have outgrown the nursery slopes, you should make a beeline for the Blanchot run, located up at the Altiport. Beautifully wide and with enough space for you to find your ski legs in peace, there is also a free drag lift here if you're not yet ready to buy a full lift pass.
Perdrix
Connecting the top of the Tougnète bubble with central Mottaret, Perdrix's low gradient makes it an all-star for those who don't like to pick up too much speed.
Rhodos
Rhodos' meandering route from the Altiport to the Rond Point makes it a great next stop once you're ready to move on from the Blanchot run. Be sure to get back on the Rhodos bubble at the midstation if you want to avoid the busy route down to the Chaudanne.
BLUE RUNS
Geai
If you're staying in Méribel Village it's likely to be one of your first pistes of the day, located at the top of the Dent de Burgin chairlift. And it sure is a good one when freshly pisted!
Crêtes & Choucas
From the top of Tougnète 2, Crêtes runs into Choucas, both of which are lovely rolling blue runs which are quite out of the way and see comparatively few visitors. However, for the 2018/19 season these will be more easily accessible as a new chairlift will link them with the Chaudanne.
Jn'bee
It's not very long, but it's a super fun wiggly run next to the Sittelle piste. Only attempt once you've mastered turning quickly!
Faon
Another beautiful piste down from the top of Tougnète. Intermediate skiers could spend a whole day on this side of the mountain, which is generally less busy than the other side and is riddled with interesting blue runs.
RED RUNS
Combe du Vallon
If you like endless views across glaciers and wide, undulating pistes, then you'll love this long cruise down from the top of Méribel's highest peak, Mont du Vallon.
Raffort
A controversial choice, perhaps - but this lesser-known run down to the hamlet of Le Raffort is a real gem, weaving through the forest past idyllic snowy trees and abandoned barns. You probably won't see another soul, and if you're a speed demon you might get some air off the rollers!
Chamois
This relatively gentle, straight run from the top of Méribel's iconic peak Saulire offers the chance to practise your carving. It rarely ever gets mogully or chopped up, despite being a principal route back down to resort from Courchevel.
Mauduit
If steep is your thing, take this glorious run down through the trees to the Chaudanne as an alternative to the Doron piste.
BLACK RUNS
Face
Plummeting down from the top of the Roc de Fer summit, Face was the women's downhill run in the 1992 Olympics. The views alone from the top would make it worth it, but the piste itself is also a brilliant one on this less-frequented part of the mountain.
Ecureuil
If you're about to try a black piste for the first time, Ecureuil makes a great introduction. It's not at too much of an incline, piste conditions are generally good and like its neighbour Faon, it's full of interesting twists and turns.
Bartavelle
The introduction of a new chairlift on this part of the mountain has made this piste more easily accessible, and as a result the conditions are generally a bit choppier than they used to be - but it's still a wonderful piste, with precipitous descents followed by gigantic rollers.
GoPro Couloir
Thrill seekers can hardly resist the lure of Méribel's most famous couloir, the Couloir Tournier. You have to pick your moment - too much snow and there's the risk of avalanches, not enough snow and it's a mogul field - but on the right day it's a must-do. Not for the faint-hearted; and remember not to fall and embarrass yourself, you're being watched by passengers in the Saulire Express bubble overhead...!